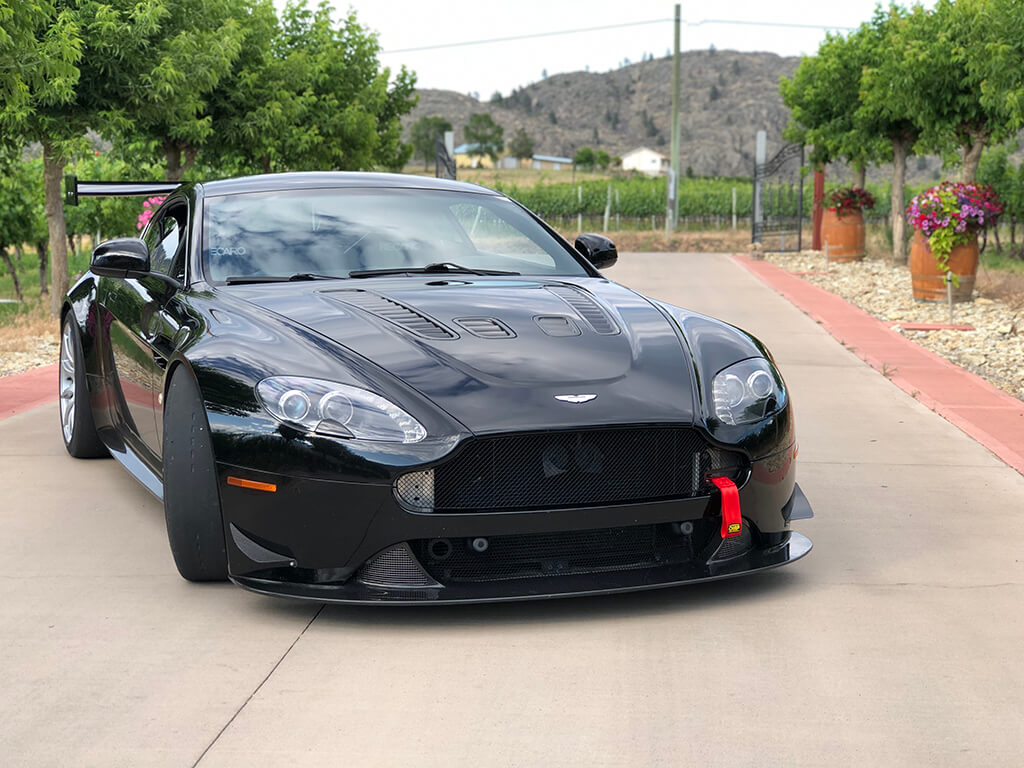 Aston Martin V12 GT4 Half Daily Driver / Half Track Monster
When a client approached us with the want to turn his Vantage V12 road car into a street-able HPDE / Track Car, to say we were thrilled would be an understatement. Combining a long list of favourite pieces, some from our product library and some from those of our friends. We created what we can only really liken as a faithful representation of what a V12 Vantage GT4 would look like.
Aero and Aesthetics: Visually the car looks stunning, adorned with an AMR GT4 bumper bar, LG Motorsports GT2 wing and carbon inlay hood vents. Both the lightweight bumper kit and wing are also proven and very functional aero add-ons for these cars, tested with 1000 of miles on track. Working with our friends at Apex Race Parts we fitted a set of wheels from their SM-10 line wrapped in Hoosier endurance rubber.
Suspension and Braking: The stance of the car was adjusted by the addition of 2 way adjustable threaded body coil overs on all four corners with remotes for compression/rebound settings. Weighing and corner balancing the car showed a well balanced platform that needed only minor tuning which was accomplished track side at Area27. Original equipment installed at the factory was a beautiful set of Carbon Ceramic rotors and pads. Whilst being very effective they are also very expensive to change, the client asked if we had more conventional iron setup that we could offer. We went to work and came up with a set of custom built 2-piece rotors and calipers that are very similar to the V8 GT4 setup that proved to be very effective on track and much more reasonable to service.
Engine and Tuning: Harder to see but certainly not harder to hear are the performance additions we made to power plant and computer. VelocityAP GT4 Intake Kits feed the 5.9L V12 which remained stock internally. The stock exhaust manifolds were replaced by VelocityAP Stainless Long Tube Headers which delete the factory catalyst setup. 200 Cell Hi-Flow secondary's and our performance SuperSport sound level muffler complete the exhaust system. ECU tuning was completed by our in house Aston Martin MasterTech Chris Edgett. Starting with the base file we sell everyday online, Chris made specific changes to maximize performance for the track while not sacrificing everyday drivability.
Safety: Wrapping the build and making it a true track day monster is the attention to safety we put into all our track forward builds. A custom fabricated bolt in half cage, designed and fabricated by our team ensures driver safety in case of a roll over. Hard mounted Sparco race seats, and Schroth 5-point racing harnesses where also installed. Not installed in this project but always recommended are a remote activated Fire Suppression System and Battery Kill mounted in easy reach of the driver.
This was certainly a one of a kind build and a vehicle we had a lot of fun creating. If you are interested in any of the parts that went onto this vehicle or you have a build in mind yourself please contact us directly.